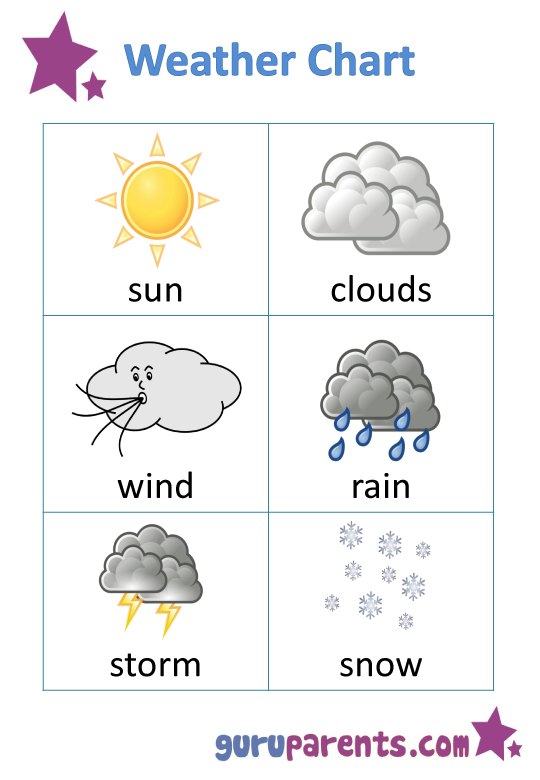 A weather chart for kids can be a fun way to get your child thinking about the weather.
The weather impacts your child in many ways. It determines how they dress, where they can play (inside or outside), whether they feel hot or cold and the types of activities they can do.
The weather chart for kids we have created covers 6 basic weather conditions for your children to learn.
Weather worksheets are an ideal follow up to the weather chart and provide more fun learning about the weather!
Tips for using a Weather Chart
Pretend play – use the weather chart for some pretend play where you can explore with your child how you feel during different weather.You can pretend that you are on an adventure with your child and that suddenly it is raining and you need to put on raincoats and put up umbrellas. Then it becomes sunny you are hot and need to take off clothes and go for a swim and so on.
You can also pretend to different activities depending on the weather. For example, when you pretend its snowing you can ski or make a snowman.
Weather Updates on TV – use the weather chart when watching the weather update on the news. Talk to your child about the upcoming weather for your area or how the weather is different in places around the country.
Tracking the weather – you can use the weather chart to track the weather through the week or even throughout a day. Create a chart so that you and your child can keep track of the weather. Even use a thermometer to track the temperature.
Weather around the globe – use a globe to discuss how the weather is different around the world. Talk about how the north and south poles are really cold and covered in snow. How the equator is hot and steamy. It is a great way to teach your child about how where you live is different to other places in the world.
Weather in picture books and shows – you can point out different weather conditions when reading books or watching shows with your child. It give you something extra to talk about when discussing your favourite illustrations in a book or scenes in a show.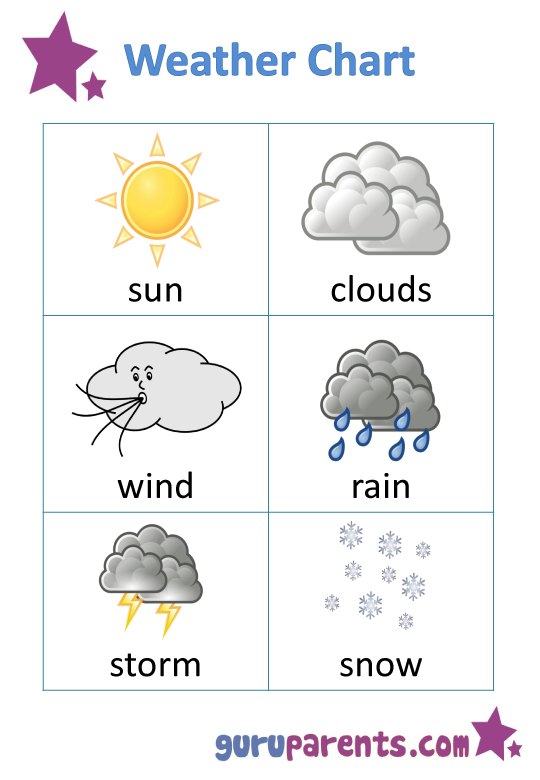 Click here for weather worksheets.