Our vowels chart can help your child recognize the different sounds for each vowel.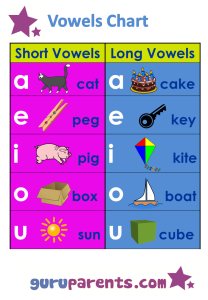 Once your child has started sounding out words, they will soon discover there are a set of 'rules' surrounding vowels.
You can use this vowels chart to help explain that, in addition to their normal sound, sometimes vowels 'say their name' – most notably when there is an E at the end of the word (Super E!).
For instance, when sounding out the words 'hat & hate', 'hop & hope'
or 'cot & coat', 'boat', 'street', meat' and so on.
Our Letter Worksheets explain this in more detail for each letter.
What are Vowels?
The letters A, E, I, O and U are defined as vowels. Vowels are different to consonants in that they are pronounced with an open mouth.
A vowel can have a long sound, a short sound, or remain silent – depending on its position in the word and the letters around it.
Difference between a Long Vowel and a Short Vowel
When a vowel sounds like its name, this is called a long sound.
For example, "cake" has a long 'a' sound – a long vowel.
A short vowel is when a vowel do not follow this rule, and is pronouced with its phonetic sound.
For example, "cat" has a short 'a' sound – a short vowel.
Note: There's no need for children to worry about the actual terms 'long' versus 'short' vowel sounds – this is adult terminology.
How to use the Vowels Chart
Have the vowels chart handy for a child to refer to when they are reading to help them sound out words
Focus on one side of the chart at a time (you may start with short vowels if your child is already familiar with the phonetic sound of the vowel).
Ask your child the name of the vowel, and to identify the picture (this will help when sounding out the word).
Help your child to sound out the word.
Now ask your child what sound the vowel makes.
Alternatively, you could focus on one vowel at a time and compare the two different sounds that each vowel makes.
Letter Resources
Letter Worksheets – There are various worksheets that cover various rules and sounds for each letter of the alphabet in our letter worksheets.
Beginning Sounds Worksheets – There are twenty worksheets you can use to cover a range of letter blends and digraphs (unique sounds).
Word Beginning Sounds Chart – This chart covers twenty of the most common two letter sounds used to begin words.
Alphabet Chart – the alphabet chart consists of all the letters with a picture corresponding to the phonic sound they make. The chart is a great tool to teach the alphabet to your child.
Alphabet Songs – try using these alphabet songs that we've compiled that are freely available on youtube.