How to use the Chart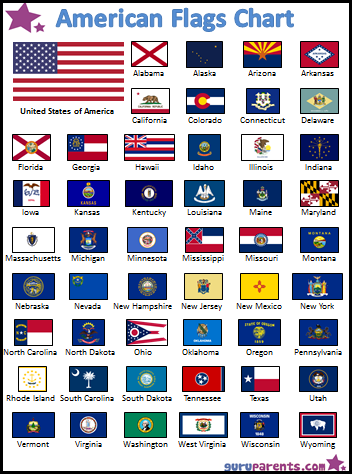 This colorful chart features all 50 United States flags.
The flags are arranged in alphabetical order, with the name of each state appearing below each flag.
Why not print the chart, display it prominently and use it as follows:
* Memorization: Discussing the chart with your child and quizzing each other on features of each flag will help your child learn the names of all 50 states.
* History: There is enormous variety among the United States flags – this can be a great way to get your child interested in American history. For example, why not explore together why Hawaii has the Union Jack on its flag or why Arizona has the colors of the Spanish flag on its flag.
* Critical thinking: An ability to describe similarities and differences is an important skill for adults to have. Help develop it in your child by discussing things such as what is unique about the flag of Washington; what are the similarities and differences in the flags of Vermont, Kansas, Maine and Idaho and between Florida and Alabama.
* Spelling: Can you spell every state's name with confidence? Having the names in full view will help your child become proficient in spelling them. Some family quizzes can help too – for example, who can correctly spell Tennessee, Mississippi and Massachusetts?
Beyond the Chart
The chart of the United States flags can inspire other fun, educational activities, such as:
* Craft: Help your child produce a collage of your own state's flag. This can be done by drawing the outline of the flag on paper or cardboard and then filling in the colors using a variety of different materials with different textures – for example, magazine cutouts, photographs, ribbons, cloths, leaves and stamps.
* International flags: The flags of the countries of the world contain an even greater variety in color, design and history. Our Flags around the world page is a good place to start.
* Look for flags when out and about: Especially if you are traveling interstate or overseas, it can be fun to keep an eye out as new flags appear.
* Capital cities: As your child learns the names of the states, take the oportunity to introduce them to the 50 capital cities too. Lots of songs help do this – here is our version:
Final Word
We hope you and your family have fun with our United States flags chart and that it is displayed on your fridge or wall for many a month!
Back to preschool education from United States flags