A unique, lighthearted story about a little girl and her imaginary hippo who does what he likes on the roof. He gets to have a shower instead of a bath, doesn't get in trouble, watches TV instead of going to bed and most importantly, eats lots of cake!
Of course, this is all a reasonable explanation for the leak in the roof.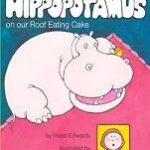 Why kids will love it
It's a fun story for beginner readers – with clean font and short sentences.
A story written for kids, in the words of a young child – including a little bit of nonsense which everybody loves!
Big, brightly colored pictures following the antics of a cute hippo.
This book has simple storyline, simple words and easy to understand, repetitive lines which kids love to remember.
There are many things to discuss with your child, including:
Why does the little girl think there is a hippo on the roof – is it possible?
Why does the little girl have to go to bed but the hippo gets to stay up and watch TV?
Why does the hippo mysteriously disappear when the men fixed the roof?
This is your child's chance to let their imagination run wild too!