We've done plenty of book reviews on Guruparents, covering some of the finest works for little kids.
But today, I'm focusing on the value of books at the opposite end of the spectrum – books that I once mistakenly thought had little value. I'm talking about little square books.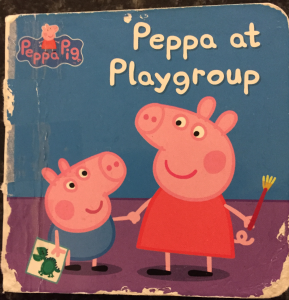 I would never have considered buying one, until we got our first in a little gift bag at the end of a children's party. As you can see from the picture of the cover, Peppa at Playgroup, has since received a huge workout! The plot is all but non-existent and it's over in a flash – but it's been wonderful for us, and worthy of sharing I think. So, here are the 7 reasons you might wish to buy some little square books:
Durable: We read these books everywhere – in the high chair, at the beach, on the change table etc. They've all taken a real beating but, with a few running repairs, they're all still going strong.
Thick pages: Adults take turning pages for granted, but for toddlers it's an important early step on the way to reading. Little square books are ideal with their thick, hard pages – perfect for small fingers to tentatively grab and turn.
Short: One of these books can be read in under two minutes. Suddenly, you feel good about yourself as a parent – no matter what else you have done something educational and useful today! And their brevity is loved by little kids as well – with lots of repetition they soon recognize every part of the story, and their confidence builds.
Recognizable characters: Plenty of famous brands create these books – in fact, probably as a slightly cynical exercise to make easy money. But the advantage for parents is that if your child likes them then there is a range of soft toys and other material that you can dip into – to the delight of your child.
Popular: In spite of absolutely nothing happening in Peppa at Playgroup our daughter is in love with the book. And, after all, getting kids to enjoy reading is half the battle of raising them equipped to do well at school!
Cheap: Not only are these little books often very cheap, they can sometimes be free or almost free!
Fun: The plots of these books are often so comically brief that as an adult, you can't help laughing. I love reading them to my daughter and half the time start giggling, which causes her to giggle too. It's a fun experience – exactly what reading should be!
Final Word
Especially when your child is two years old or younger, bright colors, fun characters and brevity can be all they need. We have a small supply of little square books on hand at home – and every time we read one, I'm glad we did!