Musical instruments for kids needn't be expensive… especially if they are going straight into the toy box. You may have a few different types of 'toy' instruments around the house so your child can investigate and discover music for themselves. Then, if you are serious about having your child eventually learn an instrument, you can choose to invest in a 'proper' age-appropriate instrument.
Most anything that makes noise passes as a musical instrument in our house. We started with shakers (uncooked macaroni shells taped up in a toilet paper roll – decorated of course), plastic containers and wooden spoons for drums… your house's band is only limited by your imagination!
Whatever your musical supplies, having any form of musical instruments in the house is beneficial for all ages!
Why choose musical instruments for kids?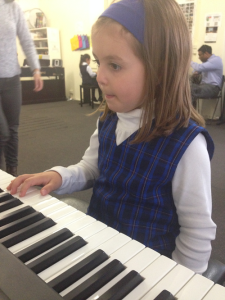 Musical instruments develop children's Thinking skills. Children fathom cause and effect as they discover a range of sounds made by the keys on a piano, or the strings on a guitar.
As we listen to melodies, we exercise our brain to identify and memorize patterns. So before we ask our budding musicians to quieten down, remember a child discovering and creating their own music is hard at work as they impressively activate and utilize their brain to do so!
Your child's coordination and fine motor skills develop and refine as they play an instrument – anything from a toddler shaking bells or tambourine to an older child learning to play a keyboard or recorder. As your child gets older and learns to read music, their concentration and ability to read ahead dramatically improves.
Musical instruments are also a great gift idea for kids at any age. My daughter received a small toy piano for her first birthday – at first she just liked listening to the pre-recorded music and sliding her fingers up and down the keyboard. Now she is using it to practice what she has learned in piano class!
Serious about music?
If your child really enjoys music and instruments, you might want to see what classes are available in your local community.
Music classes for toddlers are a great way to introduce your child to music in a class environment. These classes aim to make music fun and can include dance, art and reading, and generally explore different topics such as animals, parts of the body, colors and more.
For the more serious learner, you can enrol your child in Music lessons for a particular instrument like piano, flute, guitar, drums, or even singing!
A basic music program is also included at most schools – so if your child doesn't get any extra-curricular musical experience, don't worry – they could still turn out to be the next Beethoven or Beyonce.
Return from musical instruments for kids to preschool education