Worksheets
Click here to download all Letter U Worksheets
In a nutshell
The letter 'u' is by far the least frequently used vowel in English and only the 13th most commonly used of all letters. In different words it can be pronounced quite a few different ways, with the most common being the 'u' is for 'up' sound and the 'oo' sound heard in 'June'.
Letter u songs
This upbeat song covers the 'u' sound heard in 'duck' and also gives some examples of the long u sound as heard in words such as 'cute'. It also demonstrates how to write the capital and lowercase letter u.
Double u
Only one common word in English contains 'uu'. Do you know what it is? (Answer below)
V instead of U
Have you ever noticed that on certain old buildings 'V' appears where 'U' should? Here is a picture of the Faculty of Arts Building at the University of Manchester: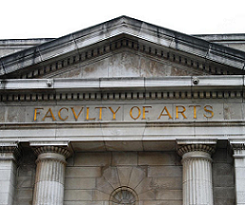 The reason for this is that in Latin the letter v had a dual usage: it could be pronounced either as the consonant 'v' or the vowel 'u'. It wasn't until a couple of hundred years or so ago that it became accepted practice for the 'u' sound to always be represented by the letter u and so you will often see a 'V' rather than a 'U' on old buildings (or buildings which people are trying to make look old!).
An annoying letter
The letter u is quite inconsistent in its pronunciation. In the table below, we have included a selection of words highlighting some of its different sounds.
| Word | Sound made by 'u' |
| --- | --- |
| Cup | u |
| Rude | oo |
| Dune | oo (America) yoo (Britain) |
| Use | yoo |
| Put | ooh |
| Turn | er |
| Guava | w |
| Bury | 'e' |
| Build | no sound, the 'i' makes a short 'i' sound |
| Guide | no sound, the 'i' makes a long 'i' sound |
| Guess | no sound, the 'e' makes a short 'e' sound |
| Guard | no sound, the 'a' and 'r' make the sound |
| Guage | no sound, the 'a' makes a long 'a' sound |
| Guarantee | no sound, the 'a' makes the short 'a' sound |
Rather than trying to teach any pronunciation rules (given that for every rule there are many exceptions), as always, practice is the best. If your young child sounds out the 'u' in cup as 'yoo', simply encourage them by saying something like, 'Very good – that is the name of the letter, but can you remember the sound it makes?'
'I Spy' words
'I spy with my little eye, something beginning with…' is a great game to play to reinforce the sound that a letter makes and it can be a fun game to kill some time – for example on a long car trip.
Here is a selection of short words starting with 'u' for you use – there are not very many!
umbrella, umpire, uncle, unit.
Answer to question
The word is 'vacuum'. There are some less common words that also contain 'uu' – for example, 'continuum' and 'residuum'.
The Letter U Worksheets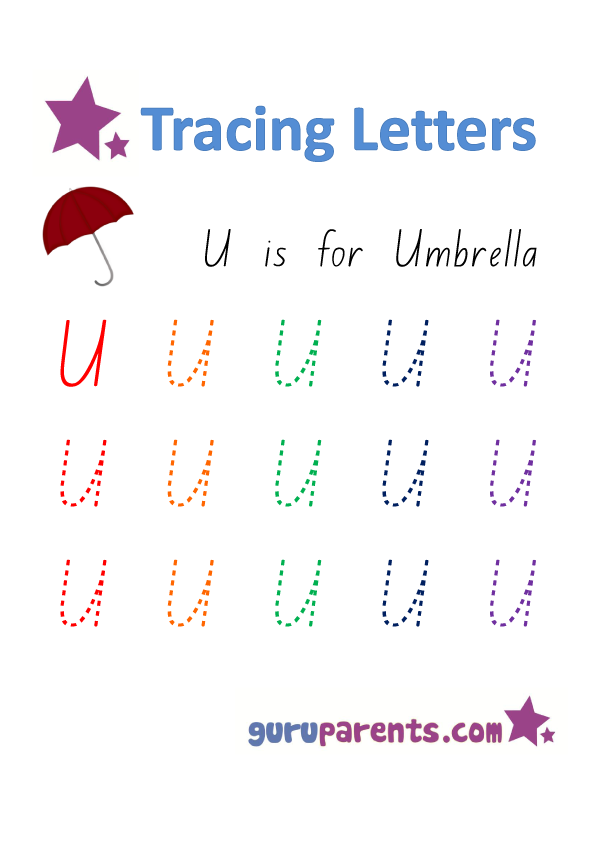 Tracing Letters – U is for Umbrella
This letter u worksheet gives your child lots of opportunities to practice writing capital U.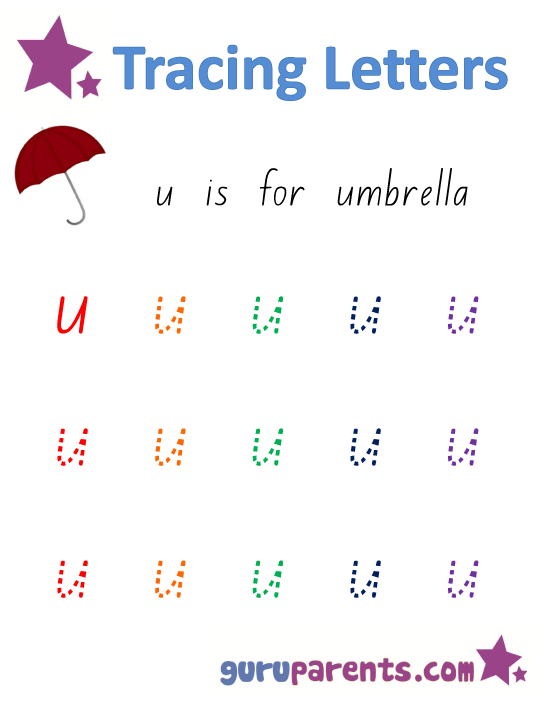 Tracing Letters – u is for umbrella
This letter u worksheet focuses on the lower case letter u.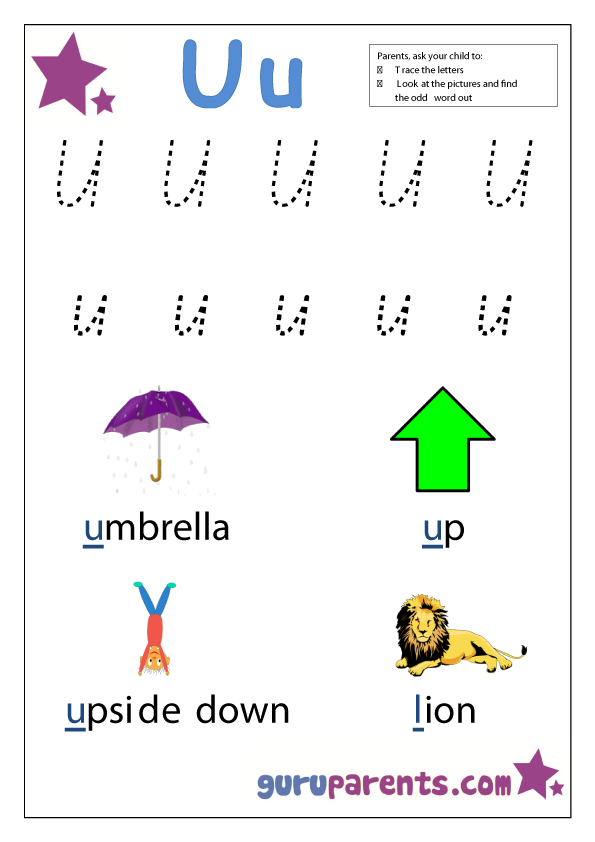 This letter u worksheet gives your child an introduction to the sound that 'u' makes, and also allows them to practice writing the capital and lower case letter u.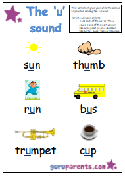 This worksheet provides a further opportunity for your child to become familiar with the letter u sound.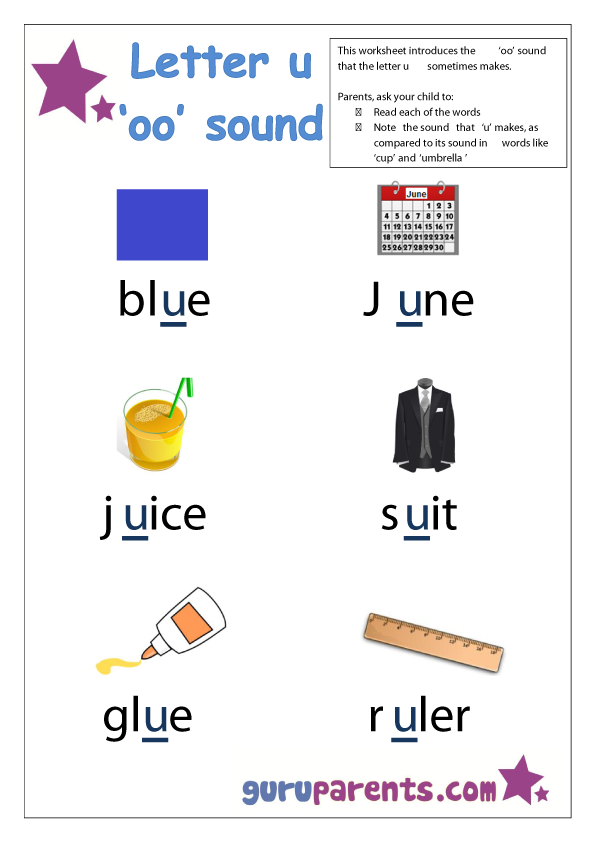 This worksheet contains six examples of when the letter u makes an 'oo' sound.
<<Previous letterNext letter>>
Back to preschool letter worksheets from letter u worksheets