Kindergarten and preschool charts are a great resource to use when teaching your child a particular topic. From colors to times tables, our kindergarten charts cover a range of key learning areas for preschoolers and older children who are well into their school years.
Here are some quick tips on getting the most out of these free and printable charts:
Routine – develop a routine when using a chart, for example after playtime or before bed – whatever suits you and your child. Spending some time each day on fun educational games with a chart is a great way to make learning fun for your child.
Prominent position – your chart should be highly visible and accessible to your child. It should be placed where it is easy to use during a lesson or part of your daily routine, and also where your child can refer to it by themselves if needed throughout the day.
Recite the items – Start out by pointing to each item on the chart and reciting its name with your child. Then start to involve your child in identifying and reciting the items on the chart – this will strengthen their learning. Begin with taking turns pointing and reciting, then eventually your child will name the items as they recognize them (and you are just a back up for when they get stuck!). Make sure you keep it fun and relatively quick to avoid boredom.
Play games – Call out random items for your child to find on the chart. Otherwise you can have them find items in your house that match items on the chart – color, shapes and alphabet charts are good for this game.
Work in sections – some topics are complex and difficult and therefore should be taught in sections. For example, the times tables are difficult to memorize and should be learned in sections.
Cut out the chart – The charts below are free and printable so you can print and cut them out. Have your child re-arrange the chart back together as another variation of the lesson. The alphabet and number charts are great for this activity.
Color Chart
Colors are very important descriptive words that help develop communication skills. This Color Chart consists of 12 common colors. The chart features a colored picture and the word for each color.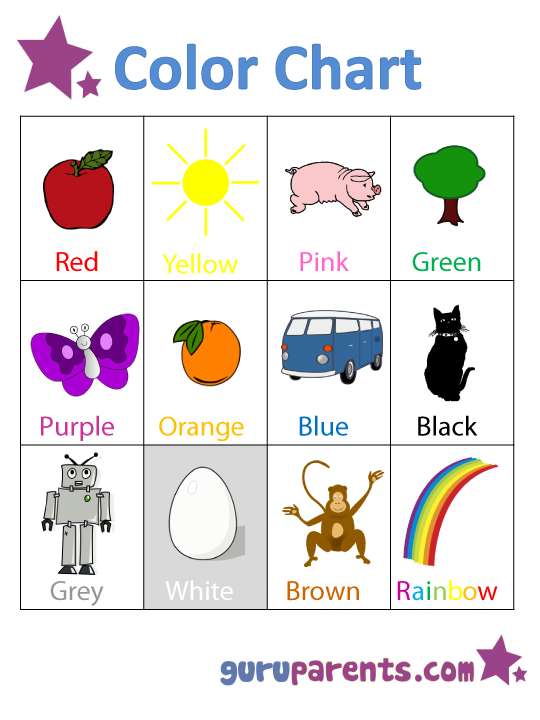 Shapes Chart
The Shapes Chart can be a useful tool to help teach shapes to your child. Teaching your child about shapes is important because it can greatly improve their ability to communicate – it helps your child verbally describe objects and also with their ability to draw.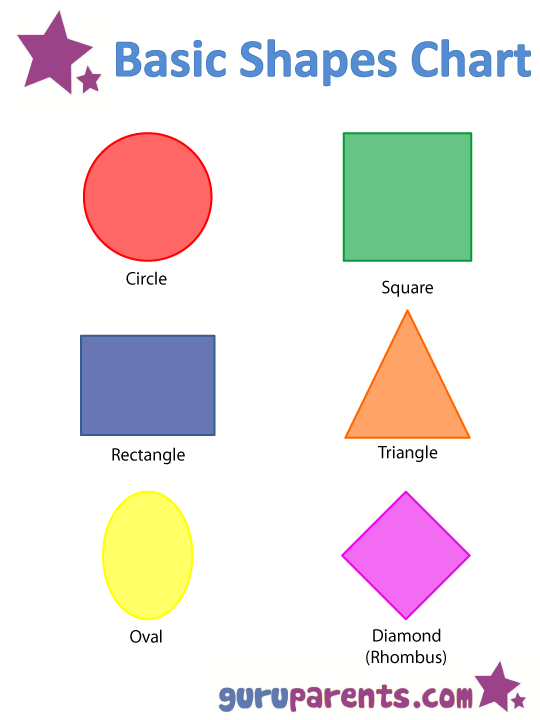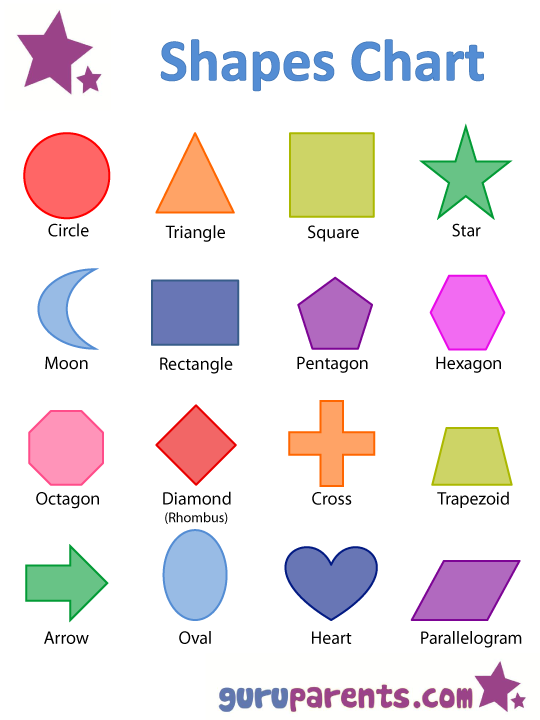 Alphabet Chart
The Alphabet Chart can play an important role when teaching your child how to recognize the individual letters and sounds of the alphabet.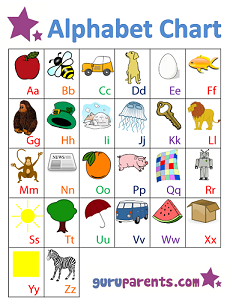 Word Beginning Sounds Chart
This Word Beginning Sounds Chart will come in handy when you start teaching your child to read. The chart covers twenty of the most common two letter sounds used to begin words.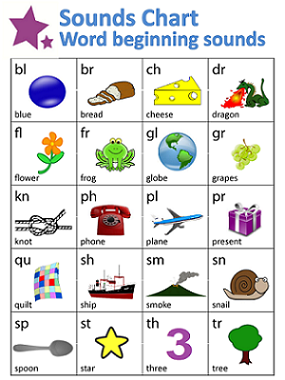 Hundreds Chart
The hundreds chart is a great tool for teaching numbers and various math concepts.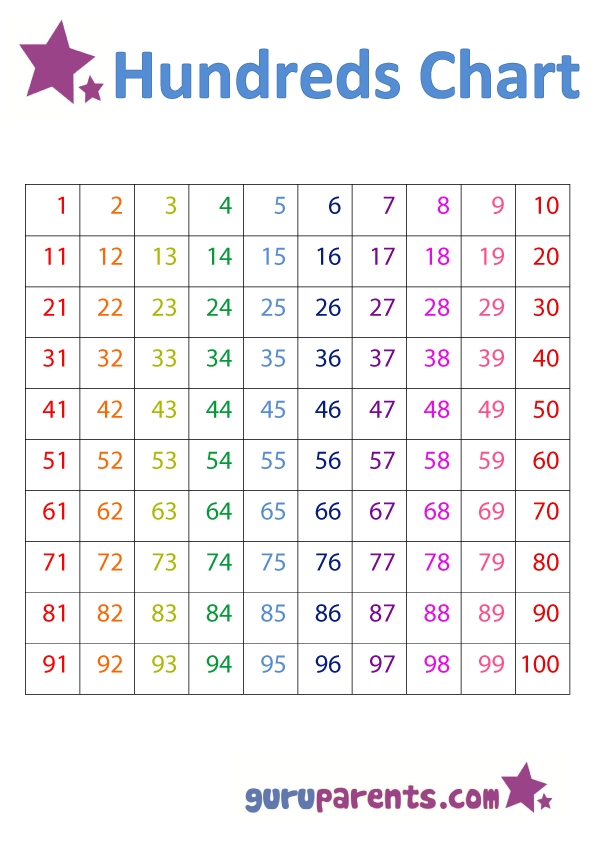 Addition Chart
This brightly colored addition chart is easy to use and a practical way to teach your child addition.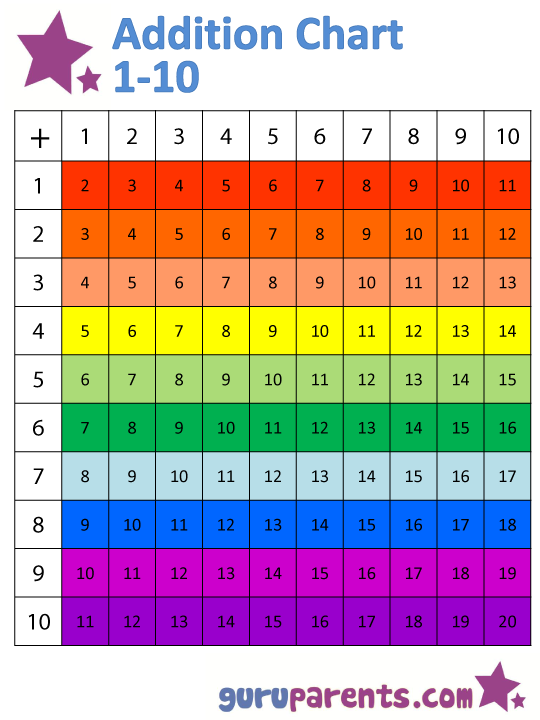 Subtraction Chart
The Subtraction Chart will help introduce young children to the concept of subtraction and give them some simple practice.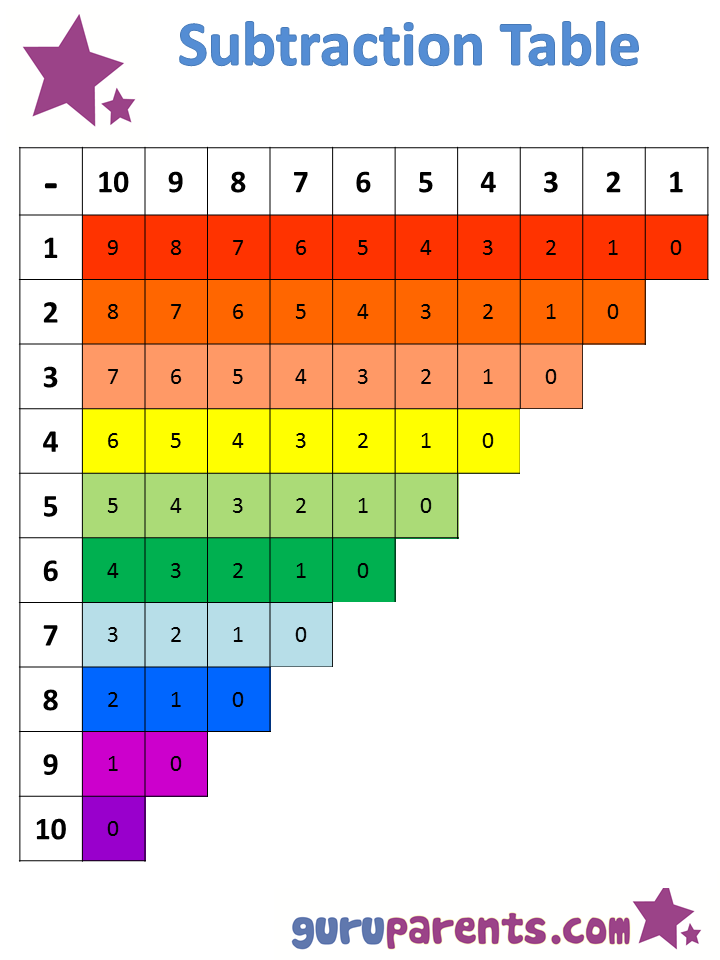 1-5 Times Table Chart
This 1-5 Times Tables Chart covers the first five times tables and contains all the multiples from 1 through to 12.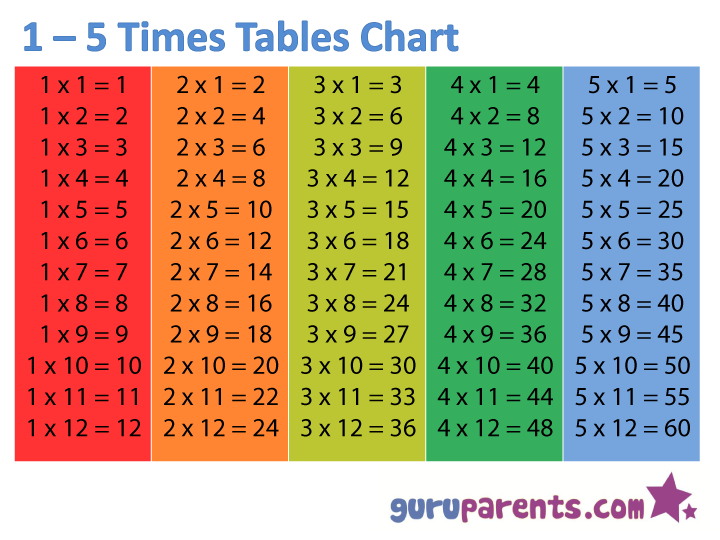 1-10 Times Table Chart
This 1-10 Times Table Chart covers the times tables from 1 through to 10 and contains all the multiples to 12.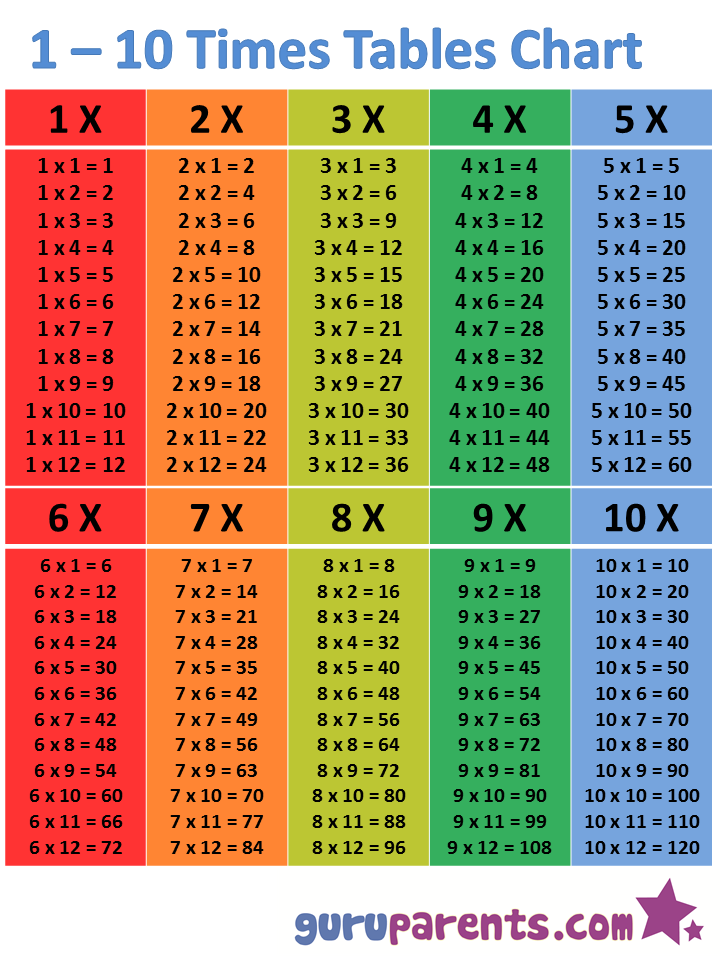 Multiplication Chart 1-100
The Multiplication Chart 1-100 is organized with the factors listed across the top row and the first column of the chart. The product of the factors is found where two factors intersect on the chart.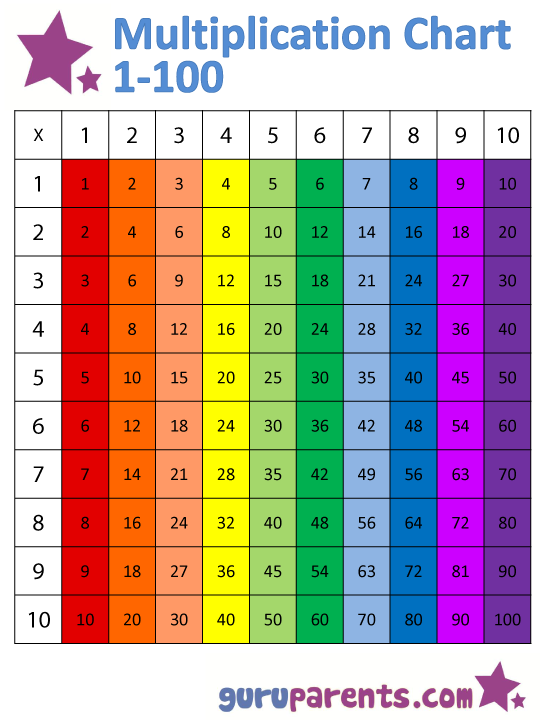 Roman Numerals Chart
The Roman Numerals Chart provides a simple introduction to the Roman numbering system, and how this system relates to our own.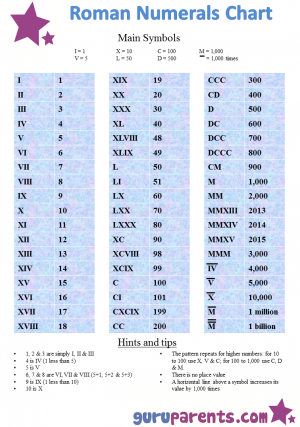 Kindergarten and Preschool Chart Resources
Each of the Kindergarten and Preschool Charts has a dedicated page that provides great tips and suggestions on how it can be used. Make sure that you read the chart page to obtain all the tips and ideas for using that chart.