Teaching the Dolch words to your child is a great way to improve your child's ability to fluently read and write. The list is made up of the most common words in the English language. It is estimated that these words consist between 50-70% of any general text. Learning these words will allow children to read with greater fluency and comprehension, and are frequently used in the teaching of reading, writing and spelling.
Edward Dolch
Edward Dolch compiled his sight words list back in 1936 by identifying the most common words to appear in children's books at that time. He published his first word list in the book "Problems in Reading" in 1948.
Dolch Words
Dolch words are a list of 220 common words that are taught to children so that they can be recognized on sight. Many of the words can not be sounded out and so must be memorised for instant recognition in reading. Edward Dolch also compiled a list of 95 common nouns.
Teaching Dolch Words
There are four key aspects to teaching children sight words. As a parent you want to make sure that your child can correctly pronounce the word, identify the word by sight, spell the word on sight and comprehend the meaning of word.
Dolch Word Flashcards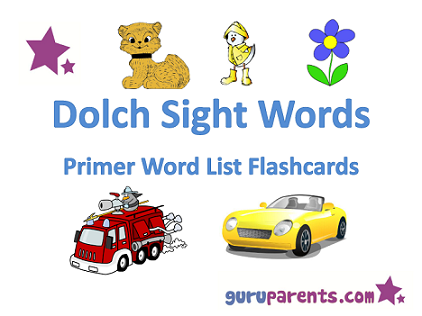 Dolch Word Pre-primer Flashcards (pdf version)
Dolch Word List
The list is divided into levels of difficulty as outlined below.
Pre-primer
a, and, away, big, blue, can, come, down, find, for, funny, go, help, here, I, in, is, it, jump, little, look, make, me, my, not, one, play, red, run, said, see, the, three, to, two, up, we, where, yellow, you
Primer
all, am, are, at, ate, be, black, brown, but, came, did, do, eat, four, get, good, have, he, into, like, must, new, no, now, on, our, out, please, pretty, ran, ride, saw, say, she, so, soon, that, there, they, this, too, under, want, was, well, went, what, white, who, will, with, yes
1st Grade
after, again, an, any, as, ask, by, could, every, fly, from, give, giving, had, has, her, him, his, how, just, know, let, live, may, of, old, once, open, over, put, round, some, stop, take, thank, them, then, think, walk, were, when
2nd Grade
always, around, because, been, before, best, both, buy, call, cold, does, don't, fast, first, five, found, gave, goes, green, its, made, many, off, or, pull, read, right, sing, sit, sleep, tell, their, these, those, upon, us, use, very, wash, which, why, wish, work, would, write, your
3rd Grade
about, better, bring, carry, clean, cut, done, draw, drink, eight, fall, far, full, got, grow, hold, hot, hurt, if, keep, kind, laugh, light, long, much, myself, never, only, own, pick, seven, shall, show, six, small, start, ten, today, together, try, warm
Dolch Noun List
apple, baby, back, ball, bear, bed, bell, bird, birthday, boat, box, boy, bread, brother, cake, car, cat, chair, chicken, children, Christmas, coat, corn, cow, day, dog, doll, door, duck, egg, eye, farm, farmer, father, feet, fire, fish, floor, flower, game, garden, girl, good-bye, grass, ground, hand, head, hill, home, horse, house, kitty, leg, letter, man, men, milk, money, morning, mother, name, nest, night, paper, party, picture, pig, rabbit, rain, ring, robin, Santa Claus, school, seed, sheep, shoe, sister, snow, song, squirrel, stick, street, sun, table, thing, time, top, toy, tree, watch, water, way, wind, window, wood
Dolch Sight Word Worksheet Lists