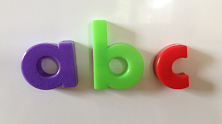 Our alphabet phonics song will help teach children the sounds of the alphabet as well as capital and small letters.
Once your child is familiar with the appearance and phonetic sound of each letter they will be one step closer to learning how to sound out words and read and write.
Benefits of using our alphabet phonics song
Each letter features the sound that the letter makes, which is repeated three times for memorization.
Specially designed, bright cartoons of sight words for each letter are featured for visual aid.
A bright, upbeat melody that is memorable for children (and adults!). Music is one of the best ways to help children learn.
Our Guru Parents' phonics singer has a soothing voice kids will love and want to sing along to!
For those with English as a second language, this video is ideal for learning English sounds of the alphabet and getting English alphabet pronunciation practice.
You can reinforce the song with our free alphabet chart, which features the same sight words as the song
We hope that kids will enjoy our song and parents, grandparents and teachers will have fun teaching infants their letter sounds.
Letter Resources
Alphabet Chart – our traditional alphabet chart consists of all the letters with a picture corresponding to the phonic sound they make. The chart is a great tool to teach the alphabet to your child.

Alphabet Videos – try using these alphabet videos we've compiled that are freely available on youtube.
Preschool Letter Worksheets – our preschool letter worksheets are ideal for children learning to write and identify letters.

Beginning Sounds Worksheets – these twenty beginning sounds worksheets can be used to cover a range of letter blends and digraphs (unique sounds).

Word Beginning Sounds Chart – the Word Beginnings Sounds chart covers twenty of the most common two-letter sounds used to begin words.

View more videos like the Alphabet Song on the guruparents youtube channel.