3D Shapes Chart
The 3D Shapes Chart is a chart that you can use to introduce three dimensional shapes to children.
The
3D shapes chart
contains the nine most common 3D shapes that your child will encounter:
sphere
cone
hemisphere
cylinder
cube
pyramid
triangular prism
square prism
pentangular prism
This chart is designed for use by children who are familiar with recognizing and drawing 2D shapes and are ready to advance to more complex three dimensional shapes.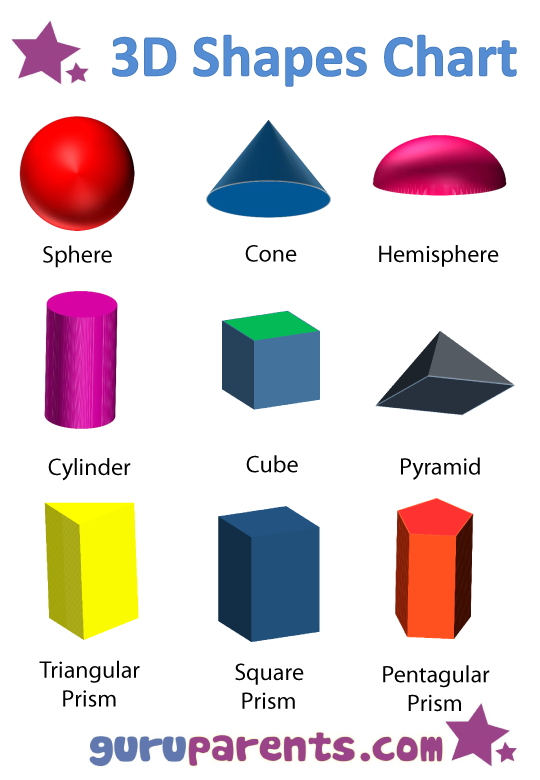 How to use the 3D shapes chart with your child
Similar to using the 2D Shapes Chart, here are some activities you can do:
After reciting the names of all the three dimensional shapes, point to a shape and have your child tell you what shape it is. Then you call out the name of a shape and have your child point it out on the 3D shapes chart.
Have your children make the shapes out of playdoh and place the shapes on top of the chart. Alternatively you can use some 3D shape cutouts for your child to make.
Have your child practice drawing each of the shapes – start by having the child trace the shapes and then move to drawing them freehand.
Shapes Resources
Teaching Shapes – find out why teaching shapes is important. Shapes Chart – we've compiled basic and advanced shapes charts that parents and teachers can use to teach children. Shape Worksheets – a range of shapes worksheets has been compiled to teach children to recognize and draw shapes from basic through to advanced. Flashcards – you can use shape flashcards to teach shapes to your child. Educational Toys – the tupperware shape sorter is a great educational toy that you can use to teach shapes. Shape Videos – we've compiled a range of shape videos from YouTube that are great to use when introducing shapes to preschoolers.
Free Printable 3D Shapes Chart